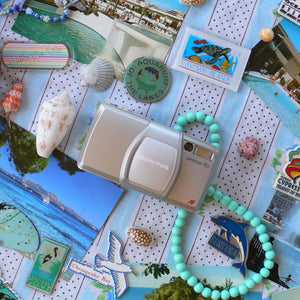 Olympus Superzoom 76s
INCLUDED ITEMS: 

Olympus Superzoom 76s 35mm film camera

Olympus strap

2x AA 

batteries

Roll of Kodak Colorplus 200 (may vary due to availability)
CONDITION:  Pre-owned. Film tested and fully working. Excellent condition, with normal signs of light use.
MORE ABOUT THIS CAMERA:  Released in 2005, the Superzoom 76s (AKA Infinity 76) was amongst the very last compact film cameras produced by Olympus. It was designed to offer a combination of performance, affordability and usability.
YEAR RELEASED:  2005
LENS:  Olympus lens (7 elements in 7 groups)
FOCAL LENGTH:  38mm - 76mm
APERTURE:  f/4.5 - f/6.2
SHUTTER SPEED:  1/500 sec - 2 sec
AUTOFOCUS:  Active infrared autofocus system
FOCUS LOCK:  Yes
INFINITY FOCUS MODE:  Yes
MACRO MODE:  No
CLOSEST FOCUS DISTANCE:  0.6m
DX READING:  50 ISO - 3200 ISO
LCD PANEL:  Yes
FILM CONFIRMATION WINDOW:  Yes
FLASH:  Auto (plus flash-on, flash-off, night scene, multi flash, and red-eye reduction modes)
RED EYE REDUCTION:  Yes
FLASH RELOAD TIME:  3.5 sec
SELF-TIMER:  Yes
FILM ADVANCE/REWIND:  Auto advance / auto rewind (plus a mid-roll rewind button)
TRIPOD SOCKET:  Yes
POWER SOURCE:  2x AA batteries
BATTERY LIFE:  ?
SHIPPING & RETURNS:  Free shipping (Express) on orders over $199. Twelve month warranty on all cameras. Visit Shipping & Returns for more info.