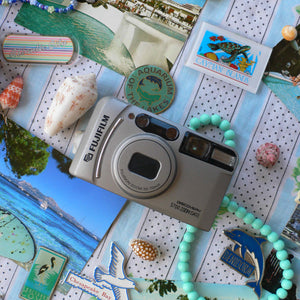 FUJIFILM DISCOVERY S700 ZOOM DATE
INCLUDED ITEMS: 

FUJIFILM DISCOVERY S700 ZOOM DATE 35mm film camera

Strap

CR123A battery

Roll of Kodak Colorplus 200 (may vary due to availability)
CONDITION:  Pre-owned. Film tested and fully working. Very good condition, with normal signs of light use.
MORE ABOUT THIS CAMERA:  The FUJIFILM DISCOVERY S700 ZOOM DATE is a modern yet relatively basic 35mm film camera from 2003 that can take decent quality photos with quite a lot of consistency. It was also sold under the names DISCOVERY ZOOM DATE 70, DL-270 ZOOM SUPER DATE, and DL-270 ZOOM SUPER.

YEAR RELEASED:  2003
LENS:  Fujinon lens (5 elements in 5 groups)
FOCAL LENGTH:  35mm - 70mm
APERTURE:  f/5.6
SHUTTER SPEED:  ?
AUTOFOCUS:  Active infrared multi-zone AF system
FOCUS LOCK:  Yes
INFINITY FOCUS MODE:  Yes
MACRO MODE:  No
CLOSEST FOCUS DISTANCE:  1.0m
DX READING:  2 Zone DX code: ISO 100/400
LCD PANEL:  Yes
FILM CHECK WINDOW:  Yes
FLASH:  Auto and manual modes (with flash ready LED)
RED EYE REDUCTION:  Yes
FLASH RELOAD TIME:  ?
SELF-TIMER:  Yes
FILM ADVANCE/REWIND:  Auto advance / auto rewind (and forced rewind button)
TRIPOD SOCKET:  Yes
POWER SOURCE:  1x CR123A battery
SHIPPING & RETURNS:  Free shipping (Express) on orders over $199. Twelve month warranty on all cameras. Visit Shipping & Returns for more info.