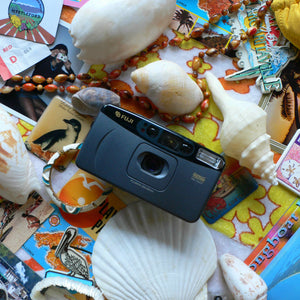 Fuji CARDIA Travel mini op
INCLUDED ITEMS:

Fuji CARDIA Travel mini op 35mm film camera

Strap

Fuji case

CR123A battery

Roll of Kodak Colorplus 200 (may vary due to availability)
CONDITION:  Pre-owned. Film tested and fully working. Excellent condition, with normal signs of light use.
MORE ABOUT THIS CAMERA:  Released in 1992, the CARDIA Travel mini op was one the last models that Fuji offered in the popular Cardia Travel Mini line. All the cameras in this series were made in Japan and had great optics and many had a bifocal lens (allowing the user two focal length options) including this one.
YEAR RELEASED:  1992
LENS:  Fujinon bifocal lens
FOCAL LENGTH:  28mm - 45mm
APERTURE:  ?
SHUTTER SPEED:  ?
AUTOFOCUS:  Yes
FOCUS LOCK:  Yes
INFINITY FOCUS MODE:  Yes
MACRO MODE:  No
CLOSEST FOCUS DISTANCE:  ?
DX READING:  Yes
LCD PANEL:  Yes
FILM CHECK WINDOW:  No
FLASH:  Yes
RED EYE REDUCTION:  ?
FLASH RELOAD TIME:  ?
SELF-TIMER:  Yes
FILM ADVANCE/REWIND:  Auto (and forced rewind button)
TRIPOD SOCKET:  Yes
POWER SOURCE:  1x CR123A battery
SHIPPING & RETURNS:  Free shipping (Express) on orders over $199. Twelve month warranty on all cameras. Visit Shipping & Returns for more info.