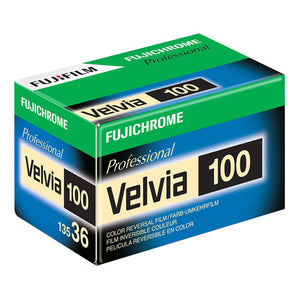 Fujichrome Velvia 100 135-36 Colour Reversal Film
Fujichrome Velvia 100 Professional 35mm Film is a daylight-type high-image-quality color reversal film with an ISO speed rating of 100. In addition to the world's highest level of color saturation, this film boasts an RMS granularity of 8, making it suitable for scenery, nature photography and other subjects that demand precisely modulated, vibrant color reproduction and high image quality.
SHIPPING & RETURNS:  Free shipping (Express) on orders over $199. Visit Shipping & Returns for more info.