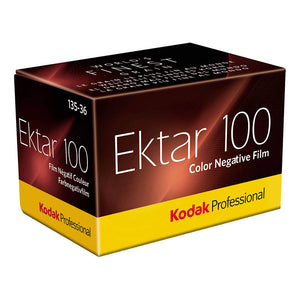 Kodak Ektar 100 135-36 Colour Negative Film
KODAK PROFESSIONAL EKTAR 100 35mm Film is the world's finest grain color negative film. With ISO 100 speed, high saturation and ultra-vivid color, this film offers the finest, smoothest grain of any color negative film available today. An ideal choice for commercial photographers and advanced amateurs, KODAK PROFESSIONAL EKTAR 100 Film is recommended for applications such as nature, travel and outdoor photography, as well as for fashion and product photography.
SHIPPING & RETURNS:  Free shipping (Express) on orders over $199. Visit Shipping & Returns for more info.